Welcome To The Home Of Brevard Live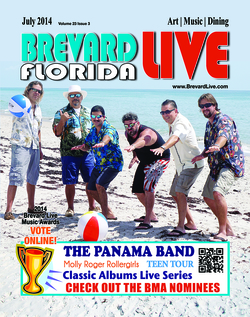 Click Here to vote for your favorite Bands/Musicians
FEATURES
BREVARD LATELY
The beginning of a long hot summer in Brevard County. Chuck Van Riper documented the joy and the fun these temperatures bring along...

CLASSIC ALBUMS LIVE
Brevard County loves classic rock, and there is no better place to enjoy the old albums played live - tone for tone, cut for cut - than at the King Center's Classic Albums Live concert series.

PANAMA
Last year this band won the title Favorite Cover Band at the Brevard Live Music Awards because of their many, many fans who party with Panama and voted for them. We caught up with band member Lew Ingelido to talk about their popularity, their music and their future vision.

HELLO MOLLY
Molly Roger Rollergirls (MRRG) is a full-contact, women's flat-track roller derby league. Meet the ladies and a few guys who are practising and playing this rather rough sport right here in Melbourne.

BREVARD EATZ
There's nothing better to do than sit by the beach or the river, enjoying a cold drink, a light menu, and, of course, some live entertainment. We visited two restaurants with excellent river view: The Docks at River Rocks in Rockledge and The Old Fish House in Grant.

THE TEEN TOUR
The Teen Tour was hatched by band mom Jenice Carter a few months back. After contacting Lissa at Rockstar Entertainment, gigs were lined up as a vehicle to help get some of the area's younger acts hone their stage chops.

Please
Like Us On Facebook
. We now have
1057 Likes!
The producers of the 2014 Brevard Live Music Awards came together for a photo for Brevard Live Magazine's August cover.
- And what was John Leach thinking?
- Please post your funny answers.