Welcome To The Home Of Brevard Live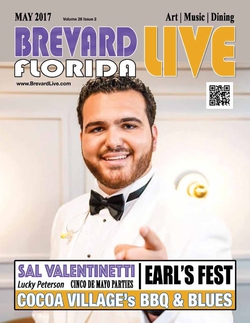 FEATURES:

ARTIMUS PYLE INTERVIEW
Artimus Pyle is best known for playing drums with Lynyrd Skynyrd from 1974 to 1977 and from 1987 to 1991, for which he was inducted into the Rock and Roll Hall of Fame in 2006. BL writer Charles Knight had a chance to interview the southern rocker.
Page 10

MELBOURNE ART FESTIVAL
The 33rd Melbourne Art Festival is held for the first time in Wickham Park. This move allows the festival to keep on growing with 250+ artists, free admission, free parking, and a free concert.
Page 13

SONIC WAVES MUSIC FESTIVAL
WFIT presents the Sonic Waves Music Festival at the Florida Tech Panthereum. Featured bands will be WFIT's Garage Band Contest winners, along with Ken Holt, Hot Pink and The Sh-Booms.
Page 15

DICK DALE
Dale is credited as one of the first electric guitarists to employ fast scales in his playing. Dale was a surfer and wanted his music to reflect the sounds he heard in his mind while surfing. He was among the first guitarists to use reverb.
Page 19

EVERCLEAR
It's been 20 years since Everclear released their 1997 multiplatinum smash So Much For The Afterglow, yet the album continues to inspire new generations of musicians and fans today. They are on their Anniversary Tour now.
Page 19

PHONELESS IN PHOENIX
There he was, out in the jungle of airline schedules and re-schedules - all without his cell phone that he accidentially left at home. John Leach was asking for adventure, and he was getting his share.
Page 21

Please
Like Us On Facebook
.
During the last fundraiser for Eric Hotton at Siggy's American Bar, one of our active members in our music community received the prestigious David T. Sigafoos Award - Merissa Rudkin was honored for all of her efforts and support for our music scene. Here are some more event photos. Read the article in Brevard Live May issue.
Brevard Live Magazine's May issues are delivered to your favorite places. You can also view the flip book at www.BrevardLive.com