Welcome To The Home Of Brevard Live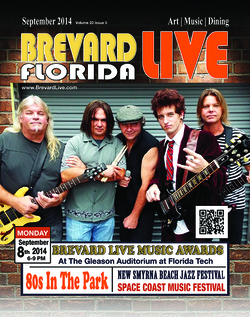 See the winners of the Brevard Live Music Awards posted during the event at www.spacecoastdaily.com and facebook.com/spacecoastdaily.

Florida Today will publish the winners and photos in their Tuesday edition.

FEATURES
THE BMA SHOW
The 11th annual Brevard Live Music Awards promises to be the best one ever. Don't miss this hilarious show, the glamour and the beautiful people on Monday, September 8, 6-9 , at the Gleason Center.

SHOOT TO THRILL
80s In The Park seems to become one of Brevard's great signature events re-living the sounds, the games and the fashion. And who can imagine the 80s without the music of AC/DC. Meet "Shoot To Thrill."

NSB JAZZ FESTIVAL
The 14th annual New Smyrna Beach Jazz Festival takes place in the Flagler Avenue Historic District, the Historic Canal Street District Downtown, Third Avenue and other venues. The line-up of performers are impressive, among them Sybil Gage, along with Linda Cole, Nicole Henry and others.

THE SAM JAM
The Sam Jam 7 is held once again this year at the Pineda Inn in Rockledge. It features eight bands performing back-to-back with headliner Big Kettle Drum, a band that shows social involvement and supports numerous benefits.

SUSAN LULEY
It is interesting to meet the Movers and Shakers behind the many cultural events this county has to offer. Often enough it is a person with a vision and on a mission. Steve Keller spoke to Susan Luley, the person who organizes the Space Coast Music Festival.

BREVARD EATZ
From the outside, it doesn't look like a fancy restaurant which El Indio does not claim to be. But it's authentic Mexican cuisine, prepared with family recipes - and it is very tasty.