Welcome To The Home Of Brevard Live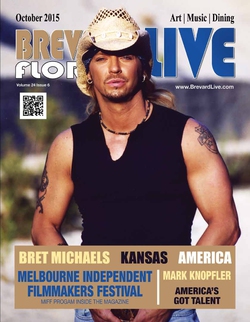 FEATURES

THE MIFF
Each year the Melbourne Independent Filmmakers Festival showcases fantastic independent films in numerous genres. This year's theme is "Dynamic Duos" to celebrate the contribution music has made to cinema in partnership with the Space Coast Symphony Orchestra.

BRET MICHAELS
Bret Michaels is a multi-faceted human being and cannot be easily grouped in to one category. He has become a brand name in pop culture that goes far beyond his fame as vocalist of rock band Poison.

MARK KNOPFLER
Few artists ever achieve the level of commercial success and sales that Knopfler reached with his brother David and their band Dire Straits in the 1970s and 1980s.

KANSAS
KANSAS has spent four decades as the soundtrack of the lives of multiple generations. They have produced eight gold albums, three sextuple-Platinum albums, one platinum, and have sold a million gold singles.

ESCAPE TO THE 80's
Matt Bretz attended this year's 80's In The Park in a different location, the Melbourne Auditorium. A wise move because the weather was anything but cooperative and the indoor venue was a blessing for a great festival.

THE ILLUMINATED PATHS TOUR
This is the tale of a musical sojourn with Heliophonic, Public Spreads the News, and Illuminated Paths Records. Andy Harrington describes his recent days on the road promoting his music and visiting different places.







Please
Like Us On Facebook
.
Eau Gallie Friday fest with Pinch.
The lady in blue is Dee Hendrick, born Foosaner, who is still in charge of the museum that is named after her family.
Art reception featuring Susan Martin's work at Foosaner Art Museum.
Our Dope Doctor is everywhere.
Delivery Day! And when we grow up we ALL want to be like Bret Michaels.