Welcome To The Home Of Brevard Live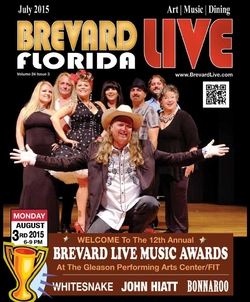 FEATURING
BREVARD LIVE MUSIC AWARDS
On June 10th we will reveal the nominees for the 2015 Brevard Live Music Awards on our website - www.BrevardLive.com. The final voting is online. Cast your vote until July 10th.
Page 9

PART ONE TRIBE
After twenty years, Part One Tribe continues to move forward with its American Reggae vibrations. The band is newly renovated since Rob D's move back to Florida and is about to hit the road once again with new players and new music.
Page 12

THE HAPPY TOGETHER TOUR
This summer, music fans will celebrate as the renowned Happy Together tour is back in their city, and bigger and better than ever! This year the tour will offer six premier acts, with a total of 56 Billboard hits amongst them.
Page 15

BBQ & BLUES
Historic Cocoa Village's 5th Annual BBQ & Blues will feature several impressing blues acts along with fingerlicking BBQ. Headlining this year is Little G Weevil. The event is held June 5th & 6th in Cocoa Village.
Page 17

TAJ MAHAL
Singer-songwriter and composer who plays the guitar, piano, banjo and harmonica, Taj Mahal has done much to reshape the definition of blues music over the course of his 50-year career by including sounds from the Caribbean, Africa and the South Pacific.
Page 19

40 YEARS WFIT
Florida Tech's very own WFIT 89.5FM celebrated its 40th year on the airwaves this spring. In the spirit of college radio, the station threw a colossal party to thank the community for its support.
Page 20

Please
Like Us On Facebook
.
Welcome to the 2015 Brevard Live Music Awards!
FYI!
Official Statement from Neil Young:

"Donald Trump was not authorized to use "Rockin' In The Free World" in his presidential candidacy announcement. Neil Young, a Canadian citizen, is a supporter of Bernie Sanders for President of the United States of America."