Welcome To The Home Of Brevard Live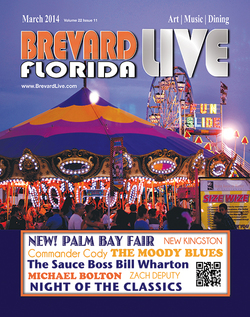 FEATURES
LET'S GO TO THE FAIR
The Spring Fair at Space Coast Stadium in Viera has been a favorite attraction in Brevard. This year the fair committee decided to add a fairground in Palm Bay at Space Coast Harley Davidson.

CONCERTS & LEGENDS
Every month many famous and remarkable artists are visiting Brevard's biggest and smallest stages. Legends Moody Blues and Michael Bolton perform among others

NIGHT OF THE CLASSICS
Six months ago several musicians from different bands performed the Night of the Classics, a concert that they created. They played and reenacted rock legends The Beatles, Pink Floyd, and Led Zeppelin. In April they are doing it again, and Brevard Live talked to founder member Adam Sikora about the event.

SPRING BREAK-OUT
Columnist Steve Keller always keeps a close eye on the original music scene. This month he is peeking behind the curtain of recording studios to see what's brewing for this summer.

SKUM UPDATE
This is the story about the South Florida punk band SKUM that almost became famous. Years after their demise they got together to film their story. Last month the final scenes were filmed at a local venue, and Charles and Lissa were on site.

FRANK SPINO
Florida Tech students and Panther fans were perhaps the first to notice the artistry of Frank Spino. His artful panther logos, some three stories tall, adorn the campus. Now Frank is presenting his watercolor paintings at Fifth Avenue Art Gallery.

Please
Like Us On Facebook
. We now have
872 Likes!
The Brevard Live Magazine March issues are being delivered today and tomorrow! Get 'em while they're hot!