Welcome To The Home Of Brevard Live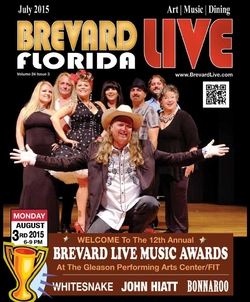 FEATURES
BREVARD LIVE MUSIC AWARDS (Click For Details)
The producers of the award show are busy with all the preparations it takes to put on the 12th annual Brevard Live Music Awards. The August issues will be distributed on August 4th (Tuesday).

AUGUST ISSUE:
BMA WINNERS

Find out who won!

80s IN THE PARK
This year's roster features Lita Ford, Slaughter, Asia featuring John Payne, LA Guns, Kip Winger, Firehouse, Bullet Boys, MASS, Autograph, Femme Fatal, Nova Rex, Kenny McGee, and more.

"Weird Al" Yankovic
"Weird Al" is the biggest-selling comedy recording artist in history. For the rollout of his 14th studio album, Mandatory Fun, Weird Al world-premiered eight videos and will visit a town near you.

Laura Jane Grace
While at Bonnaroo Matthew Bretz did not just listen to many artists' performances, he also had the opportunity to talk with them. Laura Jame Grace of Against Me was one of his interview partners.

Robert Trujillo
He was the bassist for the Suicidal Tendencies, the Infectious Grooves. He toured with Ozzie, and played with the Black Label society. Then in 2003 Trujillo joined Metallica and that's where he's been ever since.

MAKING THE SCENE
For the past five years Steagles has been offering more than the Best Cheesesteak Sandwich in Brevard. They have expanded with a large stage featuring live music and even a big band jazz concert once a month.