Welcome To The Home Of Brevard Live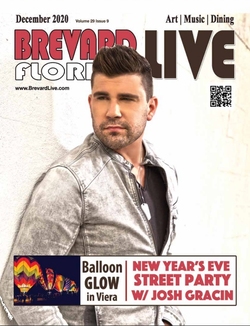 FEATURES:

BALLOON GLOW
This exciting event is being hosted at Space Coast Daily Park December 11th through 13th with activities set for 5 to 9 pm each day, including a spectacle called the "balloon glow."
Page 10

JASMINE CAIN
Jasmine Cain moved to Nashville in 2003 and went to work paving the way for female fronted rock in the motorcycle events industry. She plays everything from Classic and Modern Rock to revved up Pop and Metal
Page 10

JOSH GRACIN
A former member of the United States Marine Corps, he first gained public attention as the fourth-place finalist on the second season of the Fox Network talent competition American Idol.
Page 12

LOCAL GEMS
We have visited a few local gems: Wholesale Music, Whiskey Beach, Moo's Soft Serve, the newly opened Social Distance, and Beachside Retro. If you have not been there, find out what you are missing.
Page 14-17

DEREK GORES
His works are shown literally all over the world in the top galleries in Los Angeles, Paris and Miami among others. He has made Brevard County his home base for more than half of his life, and intends to explore the world community with each project at a time.
Page 36
It's been a tough year for the entertainment business due to a pandemic that has stifled the world. We wish you health and courage for the coming year and hope to see you out and about. The team of Brevard Live wishes you happy holidays and peace on earth!