Welcome To The Home Of Brevard Live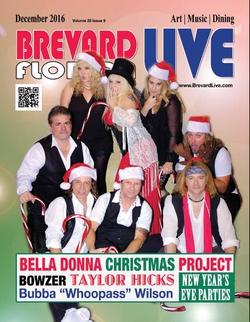 FEATURES:

SHOWS ON The HIGH SEAS
Did you know that the Victory Casino Cruises give you a Las Vegas experience that includes a ritzy club with interesting entertainment? Bowzer and Rocky & The Rollers are among the performers.
Page 11

BUBBA "Whoopass" WILSON
Besides being a great comedian, redneck-style, Bubba is a talented piano player. Put both talents into the mix, and you have hilarious blend of entertainment with songs like "Christmas in Rehab." Experience his humor at Lou's Blues.
Page 11

Bella DONNA PROJECT
Brevard Live caught up with the brand new band. They agreed to grace our cover this month - Oh what fun...! John Leach caught their first show ever opening up for Foghat at the King Center.
Page 13

MIKE ELKO
There is a new promoter in town bringing many legendary rock stars to the King Center and other venues - Elko Concerts. We caught up with Elko and found out that he knows this area better than we know him.
Page 14

TAYLOR HICKS
Taylor Hicks is one of the most beloved and popular AMERICAN IDOL winners of all time. His material features a unique take on Southern soul, R & B, country and blues.
Page 17

STREETS OF SCOTLAND
The cities of Scotland throb with a vibrant and expressive street culture. Music and art mingle with theater and oratory on the pavements and in the parks, up the walls and through the windows... - John Leach checked it out!
Page 21

Please
Like Us On Facebook
.
The December issues will be distributed today and tomorrow. Look for them in all your favorite places or read our flip book online at www.BrevardLive.com
Bella Donna Project took a Christmas pose for our cover.