Welcome To The Home Of Brevard Live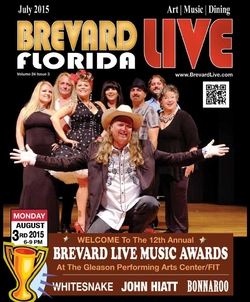 FEATURES
BREVARD LIVE MUSIC AWARDS
While the voting for Brevard's favorite bands and musicians is still in full swing, the producers of the actual award show are busy with all the preparations it takes to put on the 12th annual Brevard Live Music Awards.

John Hiatt
He is truly one of the great unsung heroes of rock & roll. In the industry Hiatt is what's known as a seminal artist - a figure strongly influencing later developments.

Whitesnake
The legendary rock'n'roll band founded and formed by Deep Purple singer David Coverdale are on their 2015 "The Purple Tour" featuring their biggest hits and songs from the new tribute album.

Bonnaroo
Four days, over a hundred of your favorite artists and comedians, 90,000 of your closest friends…let's Bonnaroo. BL contributor Matt Bretz and his brother Tim Bretz set out to capture the spirit and conduct some interviews.

"Killer Bee" Paul Chapman
Brevard Live met up with Paul Chapman, formerly with UFO, Lonestar and Gator Country, who has joined a Swedish-Canadian hard rock band, Killer Bee. They are hitting the road hard.
Page 35

The Babys
John Bisaha is walking in some mighty big shoes as the replacement for AOR legend John Waite with the iconic classic rock band, The Babys. Brevard Live's Charles Knight recently had the opportunity to interview him.

Please
Like Us On Facebook
.
Vote for you favorite musicians and bands, and Entertainer of the Year 2015 at http://brevardlive.com/ballot2
The voting ends July 10th.
Welcome to the 2015 Brevard Live Music Awards!