Welcome To The Home Of Brevard Live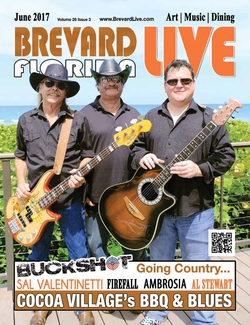 FEATURES:

BUCKSHOT
Throughout the decades Brevard's music taste has changed from mainly country, to blues, classic rock, top 40. Until four polished musicians came together to play it again - country music.
Page 10

COCOA VILLAGE'S BBQ & Blues
Cocoa Village will host fifty Pro teams for the Seventh Annual, FBA Sanctioned, Historic Cocoa Village BBQ & Blues. Besides fingerlicking BBQ this festival always serves a great music line-up.
Page 13

JMC: ZACH DEPUTY
Zach Deputy is a multi-instrumentalist and songwriter based in Savannah, GA and best known for his live looping shows. He describes his style as "island-infused drum n' bass gospel ninja soul.".
Page 13

A NIGHT OF ROMANCE
Brevard Music Group presents "A Night Of Romance" at the King Center with three headliners on one big stage: Ambrosia, Firefall and Al Stewart are legends in the music industry. It will be a lovely evening
Page 15

ORLANDO IN HEAVEN
& BAND OF BROTHERS
Two new full length records, releasing within a month of each other, both for worthy causes, featuring a grand cast of high level musical talent, were conceived, written, and produced by Brian Tarquin in his Merritt Island studio..
Page 16

PHONELESS IN PHOENIX, Part 3
There he was, bumped from the airline into a rental car - all without his cell phone that he accidentially left at home. John Leach was asking for adventure, and he was getting his share.
Page 21

Please
Like Us On Facebook
.
Rockstar Entertainment

MARK YOUR CALENDARS !!! Come celebrate the REALLY Big One with us... ⭐️⭐️⭐️ Charles 160th Birthday Bash !!! ⭐️⭐️⭐️ on Saturday June 24th at City Limits Sports Bar & Lounge !!! We have Adawak coming to entertain us with some kick ass rock'n'roll and lots more surprises 🤘😎🤘
This should be a big party for a great entertainer, rocker and writer. Congratulation to our staff writer and friend, Charles Knight, your colleagues at Brevard Live love you.