Welcome To The Home Of Brevard Live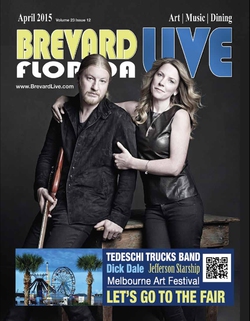 FEATURES
MELBOURNE ART FESTIVAL
Over 250 artists will display their work at the 31st annual Melbourne Art Festival. And once again, there will be a huge stage with non-stop live entertainment.

TEDESCHI TRUCKS BAND
Driven by Susan Tedeschi's impassioned, blues-soaked vocals and Derek Trucks' virtuoso guitar, Tedeschi Trucks Band is an 11-member, American roots-rock tour-de-force.

JEFFERSON STARSHIP
Known for 70s pop rock hits like "We Built This City" and "Find Your Way Back", Jefferson Starship created its own rock legacy without straying too far from their Summer of Love/Haight Ashbury roots. On this tour they celebrate the 50th anniversary of the birth of Jefferson Airplane and The San Francisco Sound.

ROCKY PATEL
"Rocky Patel is the rockstar among cigar smokers," said Tony Nardone, owner of Executive Cigar who brings this celebrity for a meet and greet to his cigar shop in downtown Melbourne.

INTERVIEW WITH THE DANDY
Jim "Dandy" of Black Oak Arkansas is the original long haired Raunch & Roller and he's influenced rock & roll singers for generations. Brevard Live writer John Leach had the pleasure to conduct an interview with the legend.

SKUM ROCKS!
As far as bands go, SKUM sucked. It's a well documented fact. And now you can see this music dilemma on the silver screen because they documented their failure in a movie that premiered in Miami. Charles and Lissa were there!

Please
Like Us On Facebook
. We now have
1442 Likes!
Susan Tedeschi autographing copies of Brevard Live Magazine for her fans after the Tedeschi Trucks Band concert at the King Center. Fotos by David Brown
If you have a charity event that is related to Art-Music-Dining please email a respectable press release to info@BrevardLive.com.