Welcome To The Home Of Brevard Live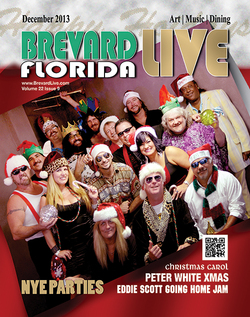 FEATURES
ANDREW MARCUS REVISITED
Andrew Marcus has become somewhat of a local legend around here. Definitely for John Leach. Longtime Brevard Live staff members know him from when he loaded up his van with magazine issues to distribute them all night. His original band Black Eyed Soul was Entertainer of the Year. John Leach visited Andrew in his new hometown, Knoxville, TN.

PETER WHITE CHRISTMAS
This holiday concert will include Christmas classics as well as songs from each artists' past and present CDs. Celebrate the season in smooth jazz style!

NATIONAL TOURING BLUES
Keep your eyes on Earl's Hideaway featuring national blues touring artists like Pat Travers, Jimmie Van Zant and more every Sunday.

BRINGING DOWN THE HOUSE
The Eddie Scott Going Home Jam produced and hosted by soul man Billy Lee might have been the most impressive show of the year 2013. The money raised paid for Eddie Scott's funeral expenses.

GUTHRIE AND IRION
Sarah Lee Guthrie and Johnny Irion play as acoustic duo in a special concert presented by WFIT 89.5 FM at Open Mike's in Florida Discount Music.

THIS WAS 2013
Charles & Lissa Knight take a retrospect of the past year. They remember the festivals, events, the new bands rising, and the loss of a few people who made a difference in our lives. Their conclusion is that Brevard has become a major destination for music and culture. We'll toast to that!