Welcome To The Home Of Brevard Live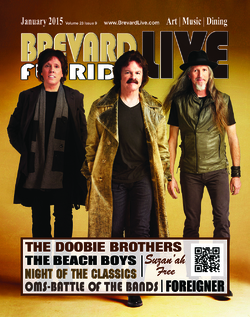 UPDATE: Honoring the wishes of the Austin Pettit Family, there will be a CELEBRATION OF LIFE in memory of legendary guitarist Austin Pettit on Saturday, February 7th, from 1-5pm at the Cocoa Beach Country Club Pavilion (off Minuteman Cswy). Please bring your coolers, BYOB. Food available. The Groove Shoes, the last of many great bands Austin played with, will perform and feature some special guests.
At 6 pm (sunset) the family will gather on the beach behind for a prayer.

In lieu of flowers donations may be made to Earth Awareness to buy guitars for elementary schools. This was Austin's wish. www.earthawareness.org

FEATURES
THE DOOBIE BROTHERS
Their sound dominated the pop charts for the whole of the 1970s and throughout their five decade career The Doobies have sold over forty million records. They will perform at Riverfront Park in Cocoa,

SUZAN'AH FREE
Before the Beach Boys perform their legendary music at a concert on January 10th at Port Canaveral, a local artist will take the stage - Suzan'ah Free. She will perform a unique tropical show with exotic Island dancers.

GRAHAM NASH
Legendary singer-songwriter Graham Nash will perform a series of "An Evening With" concerts in Florida in January 2015, which includes a stop here on January 13th. Shane Fontayne (guitar, vocals) will be accompanying Graham Nash on the road.

OMS HAS FOUR FINALISTS
At the end of the Original Music Series, four finalists are invited back to a "Battle of the Original Bands": Jacie & The Knick Knacks, General Eyes, Brother Bean, Coastal Breed.

NIGHT OF THE CLASSICS
The third show presents the music of Led Zeppelin and AC/DC. The addition of seasoned vocalist Nick Hildyard from Classic Albums Live who has performed at the prestigous King Center adds to this year's attraction of the show.

GET "FLORIBBEAN"
Brevard County is the home to some very unique restaurants along the Indian River Lagoon. This month we visited Bonefish Willy's, a classic spot with relaxed atmosphere serving delicious food - Floribbean