Welcome To The Home Of Brevard Live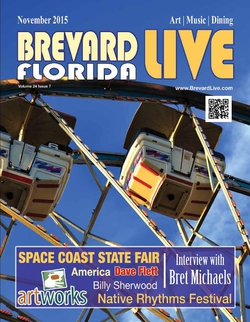 FEATURES

Festivals & Fairs
The summer heat is broken, and the Florida weather is begging for festival fun. Brevard County has a lot to offer in the month of November - the fairs, the art shows and a native rhythms fest.

Interview w/ BRET MICHAELS
Connecting to people and reeling them into his world is his specialty. No awkward moment ever. Right from the start Bret Michaels feels like an old friend. Like someone who just called to say hi. He talks about his vision, his inspiration and who he is now.

Billy Sherwood of YES
Charles Knight talked with Billy Sherwood who was hand picked by the late Chris Squire to perform on bass and vocals with the band Yes.

Dave Flett
February 1977's number one hit single "Blinded By The Light" remains one of the most played songs in rock history. Dave Flett, a Brevard County resident since the late 1980s, played guitar on the historic track. John Leach spoke to him about his newest release, Flying Blind.

Matt's Anniversary Party
Once a year Matt's Casbah celebrates its anniversary with a lavish culinary party. The event has become a social affair. This year's theme is "Africa! Go Safari."

The Stouthouse
Just south of the Sebastian River bridge, less than 100 yards to the east of US1 and hidden among oak hammocks and lush tropical vegetation, sits an artistic treasure hoping to be preserved for the ages.