Welcome To The Home Of Brevard Live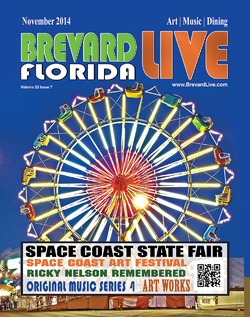 FEATURES
FREE REGGAE CONCERT
This reggae concert in Wickham Park featuring Inner Circle offers more than good vibes. Producer and sponsor Chris Robinson of One Insurance Group wants to inform people about Obamacare.

ART FESTIVALS
Fall is the month when Brevard offers an array of fine art and craft festivals. The Space Coast Art Festival, now located at the Port, has a 51-year-tradition. ArtWorks in Eau Gallie is in its 18th year.

RICKY NELSON REMEMBERED
His twin sons, multi-platinum recording artists in their own right, relive the music and memories in their multi-media event titled Ricky Nelson Remembered Starring Matthew and Gunnar Nelson. It showcases the life and music of Ricky Nelson.

BEING 80s AGAIN
Matt Bretz took the trip back to the 80s when he attended the 3-day-festival of "80s In The Park" as a neutral visitor and experienced the music, the rockstars, the crowd and the mud.

OMS 4
The 4th annual Original Music Series wants to provide a premier showcase for original music in this county. With three bands every Sunday night it's a music lover's event. It started off last month with great performances and a packed house.

MONDAY'S MONA LISA
They were voted Favorite Original Band at the Brevard Live Music Awards and ever since they haven't been out of the public eye giving interviews, celebrating their first EP release party and performing concerts with screaming girls.

Please
Like Us On Facebook
. We now have
1237 Likes!
Billy Joel Reveals Why He Won't Make Another Album Ever Again

While Billy Joel continues to pack fans into New York's Madison Square Garden every month -- as part of his ongoing residency there -- fans are still hoping that he might on day decide to make a new album. In a new interview with The New Yorker, Joel, who last released an album in 1993, said...
Billy Joel says it like it is!