Welcome To The Home Of Brevard Live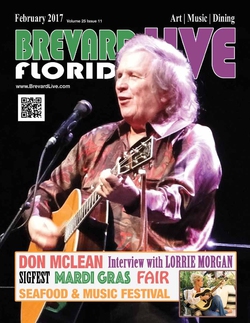 FEATURES:

LORRIE MORGAN INTERVIEWED
Lorrie Morgan charted her first single in 1978. Since then, she has charted more than 25 singles on the Billboard Hot Country Singles & Tracks charts, recorded more than 15 studio albums and sold over 6 million records worldwide. John Leach interviewed her.
Page 10

DON McLEAN
The concert will take place at the Seafood & Music Festival in Cocoa Beach. Besides delicious seafood you can enjoy the best "American Pie" along with other great bands.
Page 13

TITUSVILLE MARDI GRAS
Historic downtown Titusville will transform into a New Orleans style French Quarter during the Titusville Mardi Gras Street Party & Parade, on Saturday, February 11. Molly Hatchet will perform.
Page 15

4th ANNUAL SIGFEST
The event was created to honor David & Shawn Sigafoos for their commitment to supporting live local musicians and local charities. It's an afternoon of community fun with live music, raffles, prizes and BBQ.
Page 17

CRockfest
This month the festival ground at Space Coast Harley will feature a free three-day 80's tribute concert. It is SCHD's 2nd annual CRockfest and the line up includes regional acts on two stages.
Page 17

DAVE GRAVES
Dave has been making flutes for over eight years now and has been making a full time living from their production for five. He uses River Cane because it is indigenous to the area and is renewable.
Page 44

Please
Like Us On Facebook
.
Legendary guitarist Larry Coryell died on Sunday, February 19 in New York City. Coryell, 73, passed away in his sleep at his hotel from natural causes. He'd performed his last two shows on Friday and Saturday, February 17 and 18, at the Iridium in New York City.
We are saddened to have lost another international legend who had many personal friends and fans in Brevard County. The world lost a genius.
Sigfest was a successful event created by the community for the community. The Siggy's Family rocked all day, all night.
CRockfest: Guitar wizards Jack Starr and Jon Parrot jamming in between 80s Tribute bands. Awesome.
CRockfest at Space Coast Harley all weekend, live music non-stop on two stages. And here's guitar wizard Jack Starr when he's not playing with Jon Parrot.
And don't forget the music line-up: Don McLean is the headliner.